"THEY DYKIN": THE PATRIARCHAL ENDORSEMENT OF HOMOSEXUALITY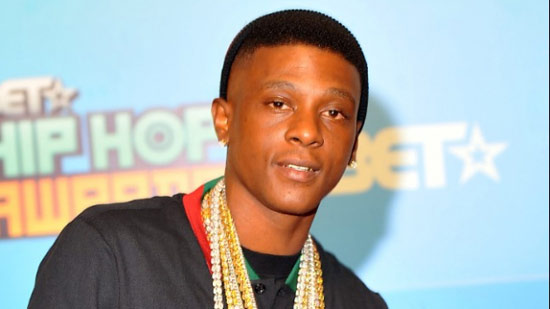 Patriarchal men are not usually thought to be proponents of homosexuality. We often think that patriarchal men are primarily interested in strict gender roles that forbid any recognition of homosexuality. However, there are exceptions to patriarchal males disdain for homosexuality. Lil Boosie, a rapper from Baton Rouge, Louisiana, provides an interesting case for the examination of the patriarchal male endorsement of homosexuality. In his popular song "They Dykin" he "celebrates" same-sexual sexual relationships among women. I put celebrates in quotes because it is clear from listening to the song, with a critical ear, that Lil Boosie leaves much to be desired when it comes to his "celebration" of same-sex sexual relationships among women.
In the world of "They Dykin," female sexuality exists only in terms of its usefulness to male sexuality. The song does not promote same-sex sexual relationships among women on their own terms, but rather by how those women can satisfy patriarchal straight men. The song begins with a rather sad foray into colorism in the Black community, stating "two red bones kissing in the back seat." It's clear from these opening lines that in Boosie's imagination, two Black women being sexual with each other isn't enough to turn him on, the women also have to be light skinned. This sentiment is unfortunately too common in a Black community that has internalized white supremacist thinking about its worth and value, and believe itself to be "better" and "more beautiful" when lighter skinned. Boosie continues with "girl don't stop keep going relax me." Here the emphasis is not on the women's pleasuring of themselves, but on how they can relax the heterosexual male who is encouraging the activity. Boosie continues, "I like girls who like girls that attract me." Once again, Boosie positions himself as the agent in the sexual situation by foregrounding his own sexual interests over that of the women who he sees as only secondary. It is his attraction that matters, primarily, not the same-sex sexual relationship of the women. They are there to please him.
The song also sheds light on an often repeated sentiment among patriarchal straight men. There have been many instances where I have witnessed a patriarchal straight man harass a Black gay woman by suggesting that her homosexuality is a result of her not having a man, particularly one that can "put the dick on her right." Boosie echoes this sentiment when he raps, "her and her friend got drunk, went to an after party, couldn't find no nigga, so they both got retarded." Here we see how the patriarchal straight man assumes that same-sex relationships among women are the result of an inability to find a man, the idea being that women settle for each other only when they can't find a suitable man to be with first. Homophobic people are quick to assume that a woman is a lesbian only because she failed to find a man, seeing her sexuality as a defeat.
The song finishes with Boosie further "celebrating" same-sex sexual relationships among women. He raps, "but I ain't got no problem I'll savage y'all, I'm a real ass nigga, I ain't mad at y'all." It would be great if Boosie meant what he said, but tucked behind his tolerance for same-sex sexual relationships among women is the truth that he only gives it a pass when it is useful to him. Many patriarchal straight men are accepting of same-sex sexual relationships among women when they can benefit from the situation, but the moment the woman is not interested in performing for him she becomes the enemy. Many patriarchal straight men are fine with Katy Perry brand of lesbian relationships wherein the women perform sexually for the enjoyment of straight men, but they are not so kind to lesbians who are only interested in sexually gratifying themselves and their female partner. These women become useless as they are no longer sexual objects in patriarchal straight male fantasies.
Do I believe that Lil Boosie–or any of the patriarchal straight men like him– supports homosexuality? No. I feel that these men support their own sexual fantasies, and use same-sex sexual relationships among women to that extent. The problem is not unique to Boosie or Hip Hop. This sentiment is communicated all throughout the culture from the TV shows to movies. The patriarchal straight male does not endorse homosexuality because he respects homosexuality as a legitimate sexual orientation, but rather sees it as a prop to be used for his own enjoyment and gratification. It's not uncommon to hear straight men speak positively about a threesome with two women, but scoff at the idea of being in a threesome that involves two men and one woman, especially if the two men are expected to perform together sexually for the enjoyment of the woman.
There are cases where straight men support homosexuality, but it isn't the case with patriarchal straight men, and certainly not the case with Lil Boosie. His song, while catchy, is about seeing women, particularly women who have same-sex attractions, as sexual objects. The sexual agents in Boosie's world are not women, but rather men who can find pleasure in watching them perform for him. Patriarchal straight men need to understand that female sexuality exists independent of them.
Update: The elephant in the room of the song and my essay is bisexuality. The song suggests that the women involved are "dykes" or lesbians, but it could also be true that they are bisexual. Our tendency to jump quickly from heterosexuality to homosexuality has rendered the lives of bisexuals almost invisible in our imaginations. We should work to overcome binary thinking that suggests that sexuality must be either/or.